About us
Carefree Excitement & Fun
Why Quizzzit?
Our desire to offer unique quiz entertainment runs deep. We promise you Excitement & Fun, and it's excitement and fun we deliver!
Whether it is in a cozy café, at an intimate family celebration or at a large business event, Quizzzit can organize the perfect fitting quiz.
We have been working hard to perfect all our products, and we are proud of them all. But even more proud we are of the reviews written on our website. Because we think that entertainment is something you have to experience yourself. That is why the feedback from our customers is so important to us. Because seeing is believing. And we want the world to see Quizzzit's quizzes!
Our experienced Quizzzit team consists of enthusiastic and creative people who also have a healthy dose of humor. And a joint focus on delivering professional quizzes full of Excitement & Fun!
Order now!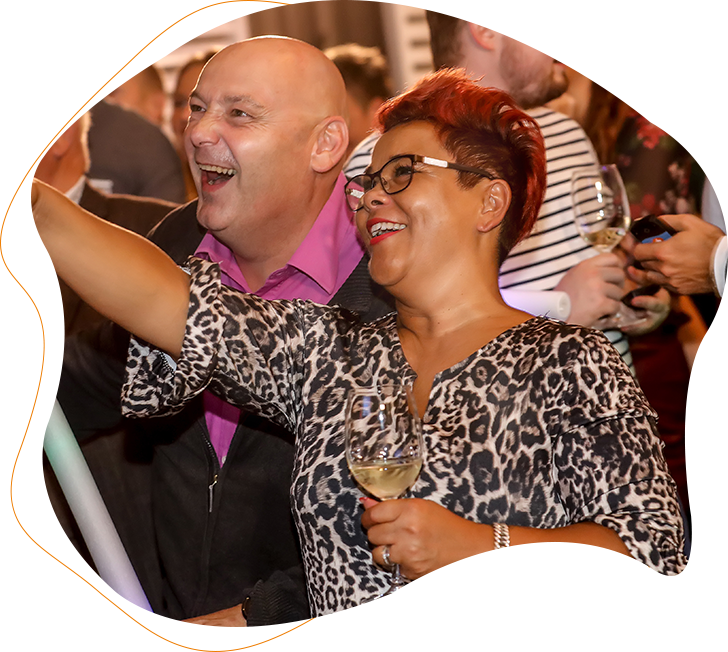 Our history
Quizzzit's adventure started in 2010 with small scaled pub quizzes. With paper and pen answers. It was already a lot of fun, but at the same time it was time-consuming, somewhat messy and it all felt so unbelievably unprofessional.
We knew it could improve in so many ways. And it did improve. In so many ways!
After introducing our digital voting pads, instantly there was much more interaction with the public. The answers were visible on screen, for everyone to see, and the results were undisputed, 100% reliable.
At this moment, almost ten years later, our carefully constructed quizzes are full of entertainment, the latest technical highlights and videos with celebrities. The somewhat messy pub quizzes have therefore been replaced by professional Quiz Entertainment!
But not only the quality of our quizzes has increased in the past ten years: Our Quizzzit team has also grown in quantity and quality.
Every single year approximately 500 Quizzzitshows are played at locations all over the Netherlands. It's our task to make sure that all those quizzes run smoothly. Every time again.
So the person in the room with the Quizzzit-voting pad in his or her hand can stay focussed on the projected quiz-questions and only needs to worry about the correct answer. Is it A, B …? Or maybe C? And then finds out D appeared to be the only correct answer.
Playing a quiz is meant to be fun. Quizzzit must ensure the fun. Always. And for everyone.
Please check our reviews. And read what many customers and organizations for which we have already organized events have to say about us.
Across the border
Quizzzit organizes its quizzes in many different languages ​​and in several countries. We are fully active in the Netherlands, and also in Belgium, Germany, Portugal and Mexico.
Every year around 650 times a quiz of Quizzzit is played beyond the Dutch borders. And there are many more quizzes to come, in many more countries.
In collaboration with various hotels and resorts our quizzes are often played bilingually. This ensures that a large international audience can play the same quiz at the same time.
In Mexico our Spanish-English quizzes have been playing for some years now. But also hotels in the Netherlands have been playing our Dutch-German and Dutch-English quizzes several times already. Our English quizzes are also regularly played at events of international organizations based in the Netherlands. So you will find, see and play Quizzzit everywhere!